The Pitt TRIO McNair Scholars Program, a grant funded program from the U.S. Department of Education, will provide a rich diversity of structured educational experiences that are designed to motivate, prepare, and support first-generation, limited-income, and underrepresented minority college students in their efforts to pursue postbaccalaureate degrees.
Through training, a supportive environment, and educational experiences, the program will strengthen academic skills, cultivate scholarly pursuit, and build a foundation for success in graduate school.
Check out the student profiles of our 2023 Senior Class of the TRIO McNair Scholars >>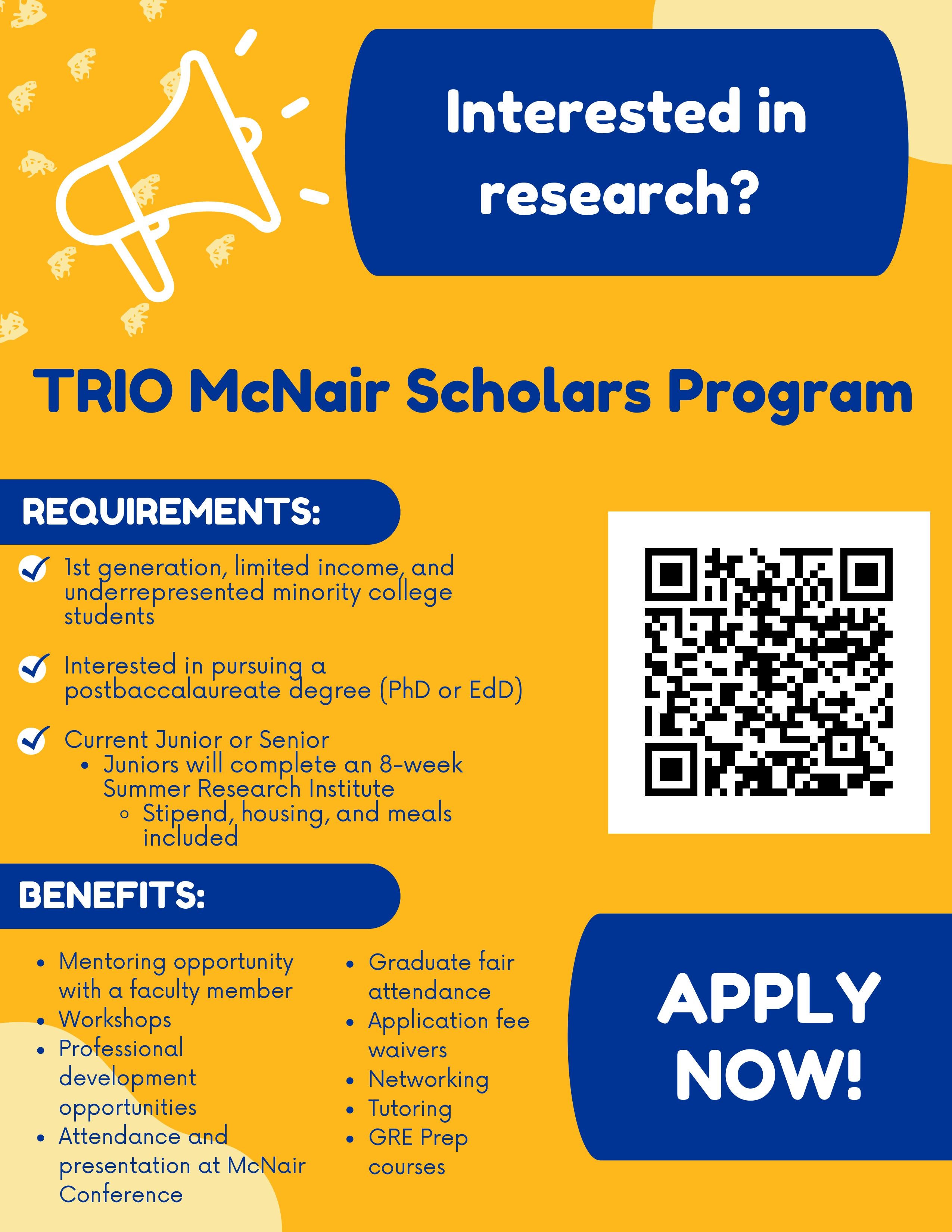 View text version of flyer image
Pitt students interested in applying to the McNair Scholars Program must meet the following criteria:

Demonstrate interest in obtaining a PhD or EdD degree.
Qualify as either:

a first-generation college student and/or
a low-income college student as defined by the U.S. Department of Education and/or
be a member of a group that is underrepresented (Black/African American, Chicano/Latino, Native American/Alaskan Native, Native Hawaiian or other Pacific Islander students) in graduate education.

Have a 2.75 minimum cumulative Pitt GPA by the end of the semester when applying.
Be a U.S. citizen or a permanent U.S. resident.
Be enrolled at Pitt during the semester when applying.

The program is open to all majors/disciplines.

Application Steps & Requirements

Step 1

Review the eligibility requirements for the McNair Scholars Program.

Step 2

Fill out our intake form.

Step 3

Gather your application materials:

Tax Returns

You will need to utilize your or your family's tax return to answer the financial questions.
Applicants that are selected as a finalist and invited to interview must submit their previous year's tax return and/or their FAFSA Student Aid Report to the McNair Team before their interview.

One Letter of Recommendation (from faculty member)

Please instruct the faculty member to email the letter of recommendation directly to Natasha Williams, Academic Coordinator of the TRIO McNair Program at natasha.williams@pitt.edu.
Interested in applying?
Fill out our intake form, and someone will be in touch to talk about the process of applying!
Questions? 
Email Natasha Williams 
Academic Coordinator, TRIO McNair Scholars Program
natasha.williams@pitt.edu